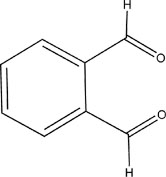 OPA (Ortho-Phthalaldehyde) is a quick and effective high-level disinfectant used on a wide variety of semi-critical, heat-sensitive medical devices in medical facilities all over the world. OPA is very effective against a wide range of microorganisms and has a near neutral pH level.
The CDC website compares characteristics of selected chemicals (including OPA) used as high-level disinfectants or chemical sterilants.
Is it effective against COVID-19 or the Coronavirus?
OPA Solution has been tested for efficacy against human coronavirus. Product development testing was performed using United States Environmental Protection Agency (EPA) Virucide Assay Methods. The results show that even at diluted concentrations, OPA Solution inactivates Human Coronavirus completely. These test results satisfy EPA requirements.
There are many factors that go into the type of OPA disinfectant solution and may impact these test results.
If you have any questions regarding OPA or would like more information, please contact us.